Aromatherapy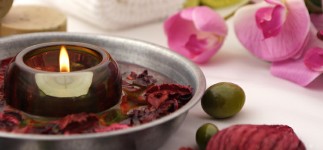 Aromatherapy:


Manual Lymphatic Drainage & Aromatherapy Practitioner - Jane Shaw
Tel:
07811 562098

Email:
j.shaw864@btinternet.com

Massage - Aromatherapy Practitioner - Vivienne Hamilton-Shields
Tel:
01248 680369

Email:
vivienne.hamiltonshields@btinternet.com
Clinics - for treatments -:
Mold  -  
Grosvenor Street -   CH7 1EJ 
          
Llanfairfechan  -
Therapy Wales - Bryn Road - LL33 0SA

:-
Links:-:
https://www.facebook.com/TherapyWales/
Aromatherapy is a completely natural therapy on it's own, or with
therapeutic massage. It can be used to complement conventional medicine. It
uses pure aromatic plant oils to enhance and restore well being, by
stimulating the body's own natural healing processes.
It can be used in many ways but the best method is a slow gentle soothing
massage treatment using the fragrant essential oils, blended to suit an
individuals needs.
The healing properties of essential oils and therapeutic massage combine to
form a unique experience for mind, body and soul. Aromatherapy promotes
health and vitality, both mentally and physically, whilst also improving the
appearance and texture of skin, keeping it supple and healthy.
What can it treat ?
Acne
Arthritis
Asthma
Back pain
Cellulite
Digestive problems
Eczema
Hayfever
Headaches/migraine
Insomnia
Stress
Hormonal problems
Sinusitis
Pregnancy