Jin Shin Jyutsu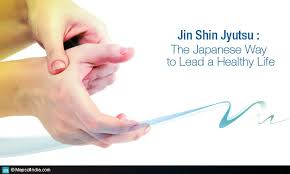 Vivienne Hamilton-Shields:

Therapy Wales - Llanfairfechan:
C/o Therapy Wales, Bryn Road                   LLANFAIRFECHAN, LL33 0SA           
01248 680369,
Mob 07759 881036, Fax 01248 680369
vivienne.hamiltonshields@btinternet.com

:-
:
What is Jin Shin Jyutsu?
It is a gentle healing art which helps ease away the tensions that cause fatigue and illness.  
Pronounced 'gin shin jitsoo', which means "The Art of the Creator through Compassionate and Knowing Man", this system of healing has been known about for at least 1500 years.  Reference is made to it in the Japanese book, "The Kojiki", which was the 'Record of All Things", written in 712AD.
Likened to acupuncture without needles, this method works to promote the flow of energy in the body.  It can be used as a self healing therapy or applied by a trained practitioner.
The energy flow is restored to harmony by using the electro-magnetic energy in our hands which act as 'jumper cables' to recharge our vital life force.
Simply by placing two hands on the body and waiting until you feel a pulse, which is a sign of our ki or chi revitalising, it is possible to start to shift the stresses which underly  disease.
Vivienne Hamilton Shields, BSc, MIPTI has been studying this remarkable therapy for nearly 26 years.  
"I have seen wonderful  transformations in my own health using this treatment".  It is beneficial for all conditions as it helps stimulate the body's own healing energy and I have had particular success with back pain, arthritis, skin conditions and respiratory disorders.
A jin shin jyutsu session lasts an hour and costs £35.00.  Tel: 01248 680369 or 07759 881036,         www.therapywales.co.uk